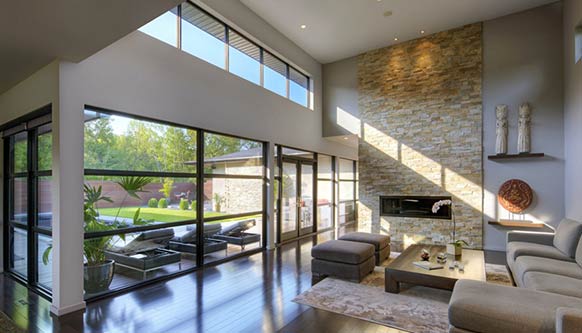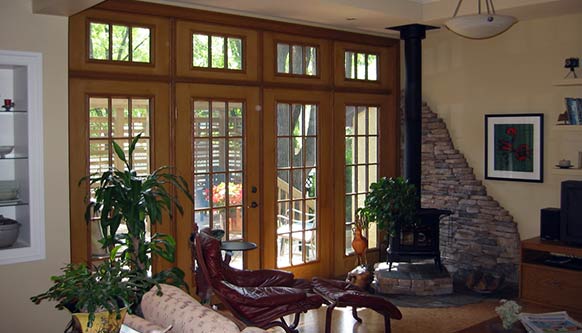 Duxton Windows & Doors is a Winnipeg-based family business, dedicated to the creation of beautiful, high-performance fiberglass windows and doors.
Why Fiberglass?
Pultruded fiberglass is an engineered material that is created through a process where strands of glass and glass matting are pulled through a heated die. The glass is bonded with resin as it passes through a die at extremely high temperatures. The result is a very strong, stable, insulating material, well-suited to windows and doors. Fiberglass lineals are painted with an architectural coating to add any color to the finished product.

Advantages of Pultruded Fiberglass
Stability – very low rates of expansion and contraction. Maintains good seal contact in hot and old weather.
Environmental Considerations – fiberglass windows feature low energy cosumption and long life expectancy.
Strength – Fiberglass is vastly stronger than other window materials, like PVC
Energy Efficiency – Pultruded fiberglass materials have a much lower conductivity an other materials, like aluminum.
Low Maintenance – extremely stable material that doesn't rot or require regular maintenance, like wood.
Non-corrosive Characteristics – an advantage when considering coastal applications.
Any Color, Inside and Out – architectural coatings can be applied in any color, on the interior and exterior.
Standard Features on Duxton Products
Durable, fully-insulated fiberglass frame
Slim profiles for maximum glass area
Strong air and water resistant corners that are mechanically joined using shear blocks for added reinforcement
Factory-applied jamb extensions
Made-to-order sizing
Warm-edge Argon-filled Insulating
Glass with a range of Lo-E* coatings
Lasting, low -maintenance finish in 17 colors inside and out
20-Year Limited Warranty on the frame and glass
*Lo-E stands for low emissivity, and refers to a windowpane that is coated in microscopic layers of metallic oxides. The coating is invisible to the naked eye, so it allows as much natural light into the home as possible, while also protecting your home from unwanted UV rays – which can burn skin and fade carpets and furniture. This coating also helps to control radiant heat (infrared light), so it helps keep your house warmer in the winter and cooler in the summer.
Modeen Company is a factory-trained and certified dealer of Sunrise Windows. Contact us today to help with your door or window project.
A high-quality vinyl window at its best.
I cannot believe how quiet the house is now, and our energy bills have been cut in half.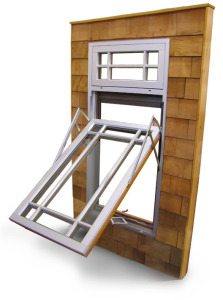 Modeen Company is an authorized and certified dealer for H-Window products.

I would like to thank you for doing such a wonderful job on our new window! They took their time to make sure the job was done right even in the freezing cold weather! 
Chris Ketchum

I'm a great judge of character which my job requires & Brett is a person I would trust to take care of me & anyone who needs his services. Brett has a great "Content of Character."
Bob Dittel

"Modeen Company replaced an odd size door for me. The process was smooth right from the beginning. Brett was very knowledgeable and very easy to work with."
Kathy Pahl

Modeen Company recently (March 2015) installed a new Weather Shield patio door in my home. They did a fantastic job, and I love my new energy efficient door.
Kristen Bedard