Weather Shield Windows & Doors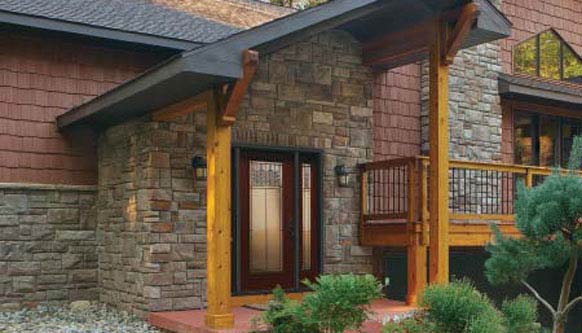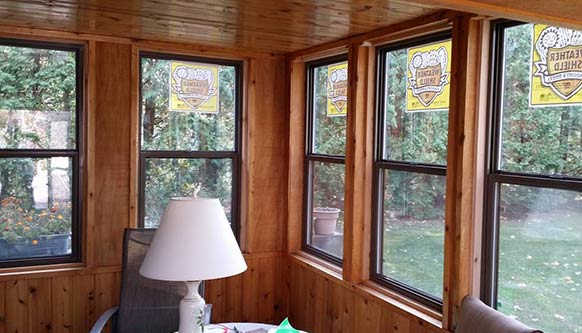 Weather Shield Windows & Doors
Vinyl clad wood windows and patio doors from the Weather Shield Aspire Series windows are built to last. They have a range of high quality options and accessories, including more hardware finishes, interior options and exterior colors that can easily match or coordinate with your existing design without compromising the budget.
Low-maintenance exterior never needs painting
Won't rot, dent, ding or chip
fusion-welded frames and sash so water can't get in
Come in a wide range of energy-saving glass options
Depending on the needs of your project and your budget, choose from among the Aspire, Signature or Premium Series of products.
Aspire Series
An outstanding value with virtually maintenance-free vinyl clad exteriors. The Aspire Series is loaded with features and options not found in other similarly priced windows.
Signature Series
Soon to be our most popular line of windows and doors, the Signature Series has extruded aluminum products with the perfect blend of our most popular options and configurations.
Premium Series
Designed to meet the needs of the most discriminating architects and homeowners, the Premium Series brings you endless possibilities. Innovative designs are paired with matching old world craftsmanship.
Soon to be our most popular line of windows and doors, the Signature Series has extruded aluminum products with the perfect blend of our most popular options and configurations.
Double-Hung Windows
Weather Shield Double-Hung Windows feature two sashes that glide up and down. They operate at the push of a finger and have classic design features that complement any home. Double-hung tilt window have the added convenience of sashes that tilt into the room so you can clean the outer glass surface from inside.
Casement & Awning Windows
These versatile windows have a single sash that is hinged at the top. The sash swings opens from the bottom, creating an awning effect and enabling you to have the window open even when it's raining. Awning windows are often combined with other window styles to add a unique effect to any room.
Slider Windows
Let more light and ventilation into your home with Weather Shield slider windows. One stationary sash welcomes the sun while the operable sash glides smoothly from side to side to maximize airflow. The slider is also an ideal choice when there is not enough outdoor clearance for a crank-out sash.
Specialty Shape Windows
Special shape windows allow you to add a variety of architectural styles to your home or business and help accentuate other window styles and create a unique architectural style all your own.
With design shapes like half circles, arches, ovals, circles, trapezoids, triangles and virtually any other shape you can imagine, the design possibilities for your window project are nearly endless. In addition to the many shapes offered, Weather Shield special shape windows come in several styles, finishing options, colors and materials.
Sliding Patio Doors
If there's no room for a swinging patio door, a Weather Shield sliding door may be the solution. One panel is stationary, while the other slides from side to side on strong, durable tracks.
Hinged Patio Doors
Weather Shield's Hinged Patio Doors are traditional in design. Their two operating glass panels are hinged on the sides and swing inward or outward from the center. Patio doors hinged between the glass panels, also known as French doors, feature one stationary panel and one operating panel that swings open from hinges along the center stile.
Visions Series
Engineered for strength and insulating performance, the Visions Series from Weather Shield has the colors, features and options not found in other vinyl windows. Two different levels, the 3000 and 2500 series, offer even more versatility.
Solid, energy efficient construction and virtually maintenance-free vinyl make the Visions® Series one of the most sensible window and door solutions available.
Designed to simulate a wood window with the durability of an extruded vinyl window, the Vision Series line of products feature thick, multi-chambered extrusions, adding strength and insulating performance. Every unit is constructed with fusion-welded corners, virtually eliminating water or air infiltration at the frame joints and features our Real Warm-Edge® Spacer System between the panes of glass improving thermal performance and maximizing energy savings.
In addition, the Visions Series offers innovative finishing accessories designed to snap onto a convenient, built-in exterior accessory channel for ease in installation.
Visions 3000 Series
Frame features a traditional wood window profile.
Extremely durable vinyl extrusion in a full 3-1/4″ frame, and a steel-reinforced meeting rail add strength, insulating performance, and low maintenance.• BrickmouldJ-Channelframe design on Double Hung, Single Hung and Slider windows allowfor easy installation of siding.
Visions 2500 Series
Contemporary 3-1/4″ frame design features multi-chambers for added strength and thermal performance.
New inverted Coil Balance System (available on all Double Hung and Single Hung Windows), delivers an ultra-smooth, effortless operation.
Modeen Company is a factory-trained and certified dealer for Weather Shield Doors and Windows.

I would like to thank you for doing such a wonderful job on our new window! They took their time to make sure the job was done right even in the freezing cold weather! 
Chris Ketchum

I'm a great judge of character which my job requires & Brett is a person I would trust to take care of me & anyone who needs his services. Brett has a great "Content of Character."
Bob Dittel

"Modeen Company replaced an odd size door for me. The process was smooth right from the beginning. Brett was very knowledgeable and very easy to work with."
Kathy Pahl

Modeen Company recently (March 2015) installed a new Weather Shield patio door in my home. They did a fantastic job, and I love my new energy efficient door.
Kristen Bedard