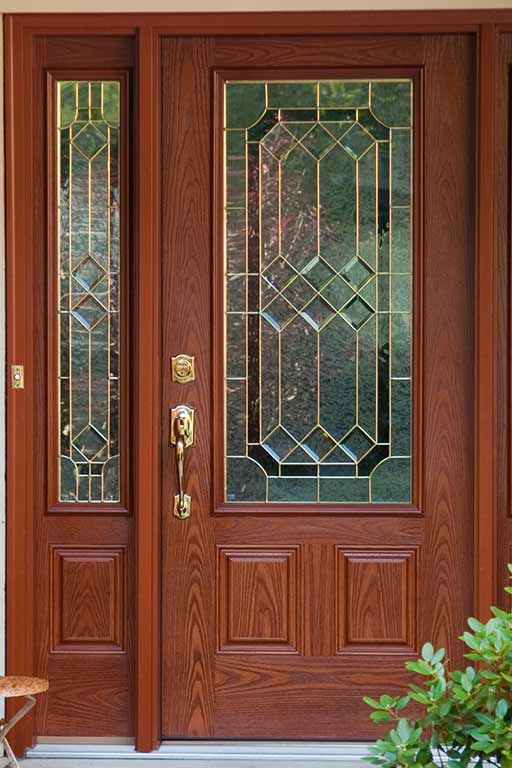 The front door is among one of the first things people notice about a house, so it should be well-built, welcoming, and enhance the home's style. Quality doors are key to adding a good first impression, "curb appeal" and improving the home's value.
Today's modern steel and fiberglass door designs surpass the strength and durability of wood, improve the home's insulation and require little or no maintenance. Modeen Company can customize these high-quality new doors in colors, styles and sizes that suit your home and express your personality.
Constructed from high-technology materials that resist damage, moisture and ultraviolet rays.
Improve insulation capability.
Come in styles and colors for any home of any age, to fit with any budget. Also choose from a wide range of storm and patio doors.
Can be installed complete with integrated hinges, lock sets and weather stripping.
When It's Time for Replacement Doors?
If you are experiencing any of the following, consider a free door replacement consultation from Modeen Company:
Door sticks, won't latch, or binds. If the problem does not seem to be the doorknob, it may mean the door is warped or damaged.
Peeling, Cracking: eventually, all doors age beyond repair and need to be replaced, especially wooden doors exposed to wind, rain, heat and snow.
Does not seem secure: if your door is damaged enough, it can allow someone to break into your home, and needs to be replaced with stronger, more modern construction.
Outdated style: renovating or remodeling calls for updated doors that will match your home's new look.
Choose the experts in replacement windows and doors. Contact Modeen today!
"The windows are beautiful. We love them. Excellent job!"

I would like to thank you for doing such a wonderful job on our new window! They took their time to make sure the job was done right even in the freezing cold weather! 
Chris Ketchum

I'm a great judge of character which my job requires & Brett is a person I would trust to take care of me & anyone who needs his services. Brett has a great "Content of Character."
Bob Dittel

"Modeen Company replaced an odd size door for me. The process was smooth right from the beginning. Brett was very knowledgeable and very easy to work with."
Kathy Pahl

Modeen Company recently (March 2015) installed a new Weather Shield patio door in my home. They did a fantastic job, and I love my new energy efficient door.
Kristen Bedard